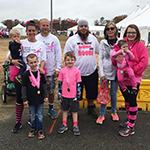 MORE THAN PINK Walk Registration is Open!
Komen CSNJ is excited to announce the Affiliate's first-ever MORE THAN PINK Walk event, commemorating 25 years of our organization making a local impact in our 13-county service area. Along with a new name, the event will include a fresh new look and experience focused on energizing the community around the lifesaving work Komen's supporters make possible.
Pictured: Ashleigh Jones with her family and members of the Be CUREageous team. Ashleigh is a 2017 Top Fundraiser and currently leading 2018's MORE THAN PINK Walk fundraising efforts with $12,000 raised at her first fundraiser in May.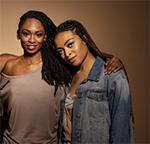 Komen CSNJ Supports Empowering "Know Your Girls" Campaign
In New Jersey, black women are 32 percent more likely to die from breast cancer than white women. To address this unacceptable disparity, Susan G. Komen and the Ad Council launched Know Your Girls, a national campaign to educate and inspire black women to understand their risk for breast cancer and take charge of their breast health.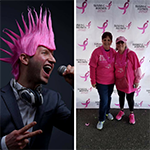 More Than Pink Walk Committee Co-Chairs Leading the Way for a Meaningful, Memorable and Exciting Event
As two longtime volunteers of Susan G. Komen Central and South Jersey, Janet Marzocca and Scott Present go above and beyond in their roles, working side-by-side with staff, survivors, other volunteers, and donors to make our annual walk event special, memorable and meaningful. These two are this year's MORE THAN PINK Walk committee co-chairs!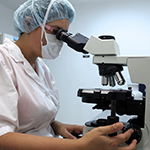 Chemotherapy Not Needed for Some Breast Cancer Patients
Susan G. Komen issued a statement regarding a new study partially funded by the organization called Trial Assigning Individualized Options for Treatment, or TAILORx. The study, published in the New England Journal of Medicine and presented at a meeting of the American Society of Clinical Oncology, shows that many women with early-stage breast cancer may not need to undergo chemotherapy treatment.
Men Can Get Breast Cancer, Too
Every June, we celebrate Men's Health Month and encourage the guys in our lives to make their health a priority. Even though breast cancer in men is rare, it can and does happen.

If you or a loved one needs information about breast health or breast cancer, call our breast care helpline to speak with a specially trained oncology social worker or specialist at 1-877 GO KOMEN (1-877-465-6636) or email at helpline@komen.org.

Click here to view this message as HTML in your browser.
Click here to forward this message.