Register now for the 27th Annual Pittsburgh Race for the Cure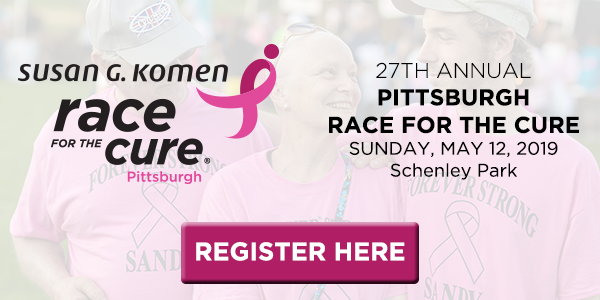 Whether it is your mom, a favorite relative, your sister, your partner, a good friend, a co-worker from down the hall, your next door neighbor... For every woman and man who has been affected by breast cancer... We ask that you join us in honor of each of these people on Sunday, May 12, 2019 at the 27th Annual Susan G. Komen Pittsburgh Race for the Cure.
Registration for the 2019 Pittsburgh Race for the Cure is now open! This year, as you gather with loved ones, or remember those who are no longer with us, register for the Race in that person's honor. Join this Pittsburgh tradition on Mother's Day; whether as an individual or as part of a team, you commit to being a part of something special! Every year, every race — we walk together for hope, we run together for strength, we Race for the Cures.
Susan G. Komen hails findings from KATHERINE Trial showing new treatment option that reduces breast cancer recurrence/death risk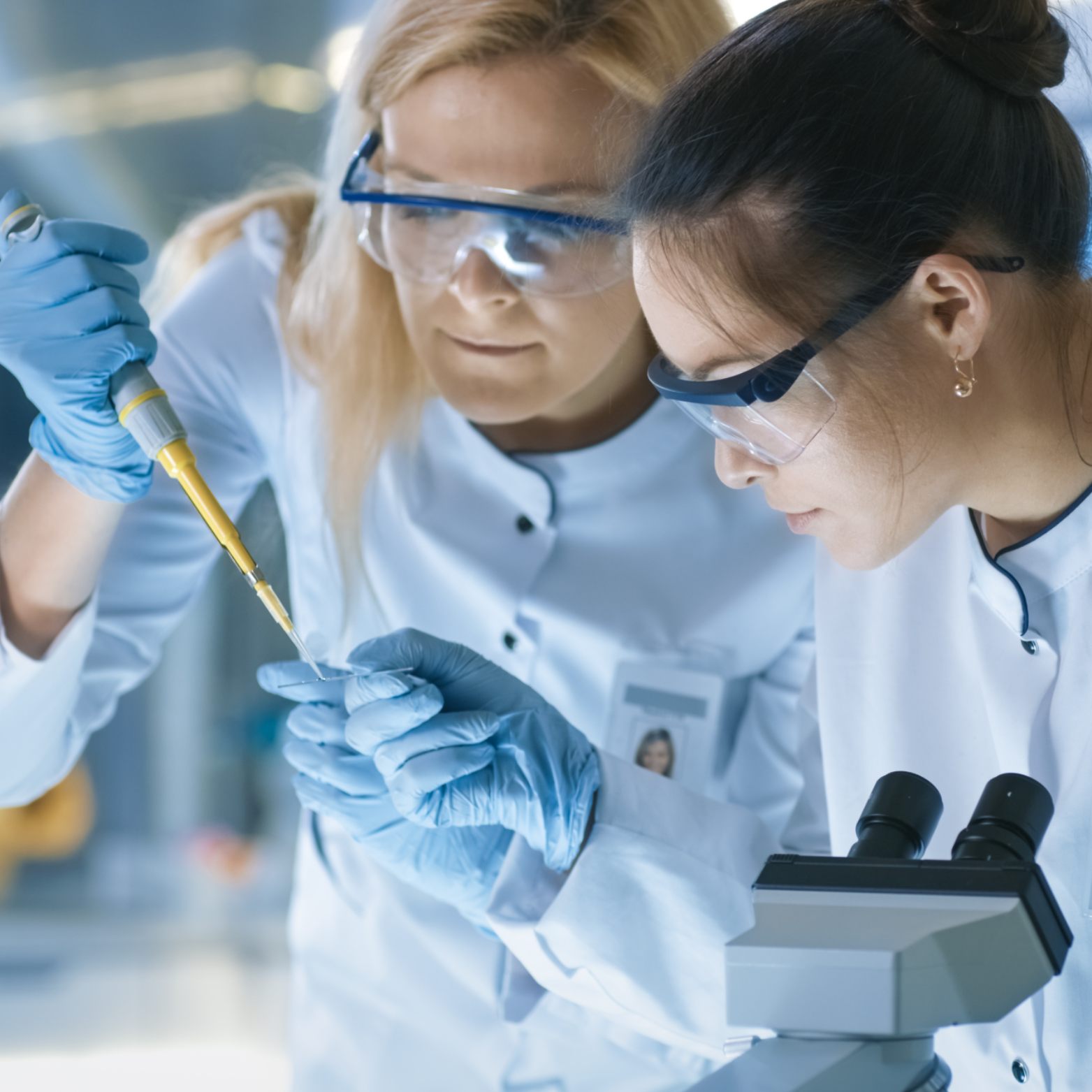 On December 5, 2018, Susan G. Komen hailed new findings at the San Antonio Breast Cancer Symposium from their KATHERINE clinical trial that shows patients with early stage HER2+ breast cancer who used T-DM1 (Kadcyla®) following surgery rather than Herceptin®, which is the current standard of care, are at lower risk of recurrence or death at three years after treatment.
The drug T-DM1 is the antibody trastuzumab that targets HER2 and recognizes tumor cells and blocks them. T-DM1 also delivers a chemotherapy drug that helps to kill the tumor cells directly. This antibody-drug combination ideally limits damage to healthy cells by delivering the chemotherapy directly to the cancer cells with HER2. This combination was shown to improve outcomes in early stage, HER2 + patients who still had invasive cancer after pre-treatment when they went in for surgery.
In this study, patients with residual disease who were treated with T-DM1, showed that 88.3 percent of patients at three years did not have their breast cancer return compared with 77 percent for patients treated with trastuzumab alone. Invasive disease occurred in 22.2 percent of patients treated with trastuzumab and in 12.2 percent of those receiving T-DM1, reflecting a 50 percent reduction in the risk of recurrence. Click here to read more.
Donate Your Vehicle to Komen Greater PA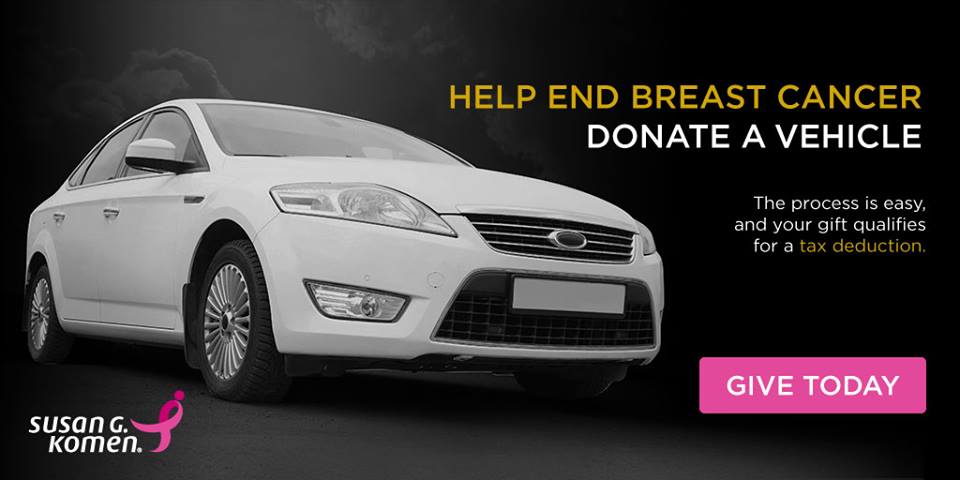 By donating your car, truck, motorcycle, RV, or boat to benefit Susan G. Komen Greater PA, you're helping save lives. Your donation provides funding for research aimed at finding new ways to detect, treat and prevent breast cancer, and services that ensure everyone in our 53-county service area has access to quality care when they need it.
At no cost to you, Komen will arrange to pick-up your qualified vehicle in western, central, and northeastern Pennsylvania. Upon sale, we will provide you proper tax forms. Our customer service representatives are available to assist you through the process and may be reached by calling 877-775-6636 (877-77-KOMEN.)
Donate your vehicle to Susan G. Komen® today.
Funds available to assist with patient treatment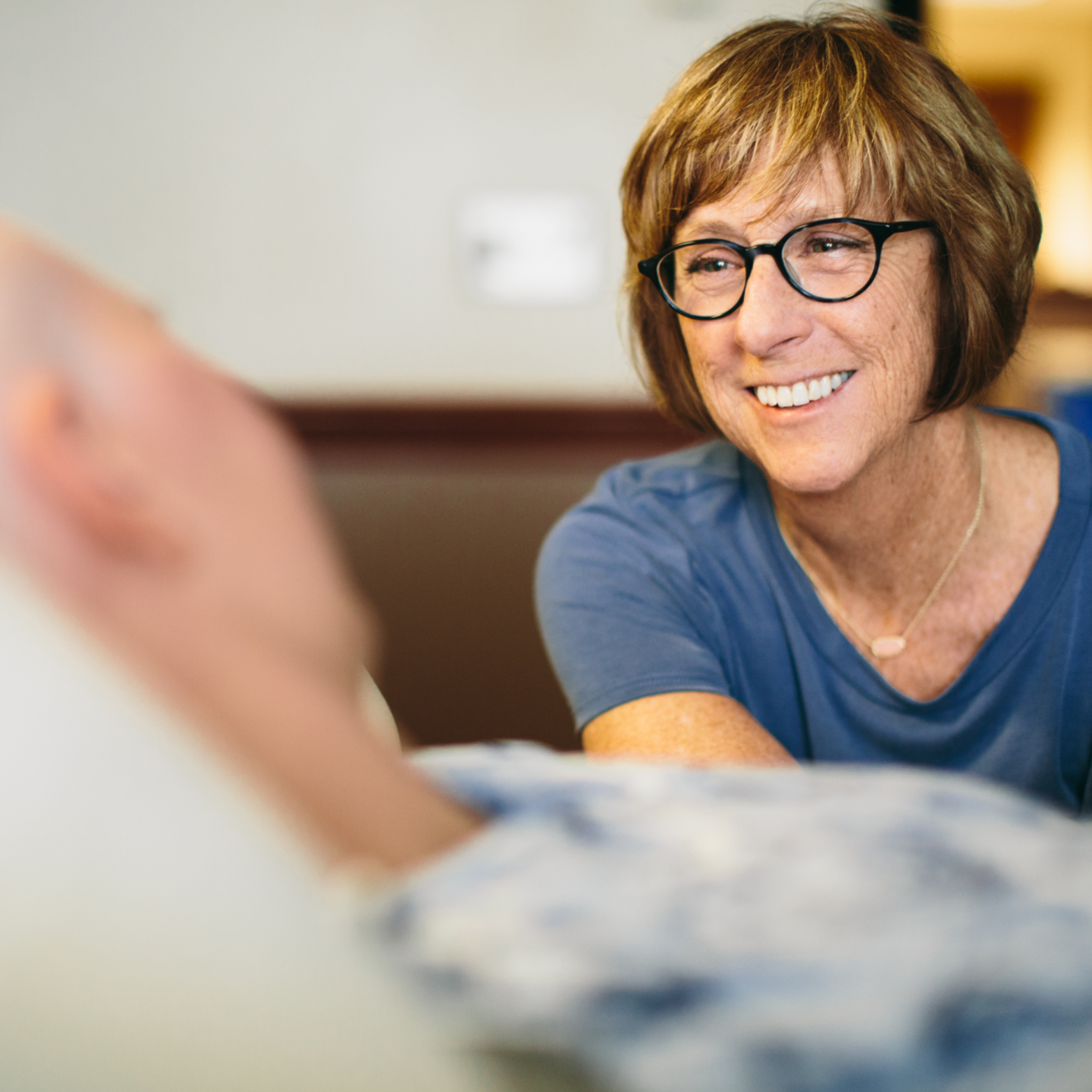 Did you know that Susan G. Komen Greater PA offers financial assistance to breast cancer patients living in our 53-county service area? Grants are provided to assist with costs of oral pain and anti-nausea medication; oral chemotherapy/hormone therapy; child care/elder care; hospice and palliative care; home care; lymphedema care and supplies; transportation to and from treatment; wigs and prostheses; as well as durable medical equipment.
For more information, call the Susan G. Komen Breast Care Help Line 1-877 GO KOMEN (465-6636) or email helpline@komen.org. Calls to the Breast Care Help Line are answered by a trained and caring staff member M-F 9 a.m. to 10 p.m. ET; 6 a.m. to 7 p.m. PT.

The 12th Annual Ski for the Cure at Jack Frost Big Boulder on February 23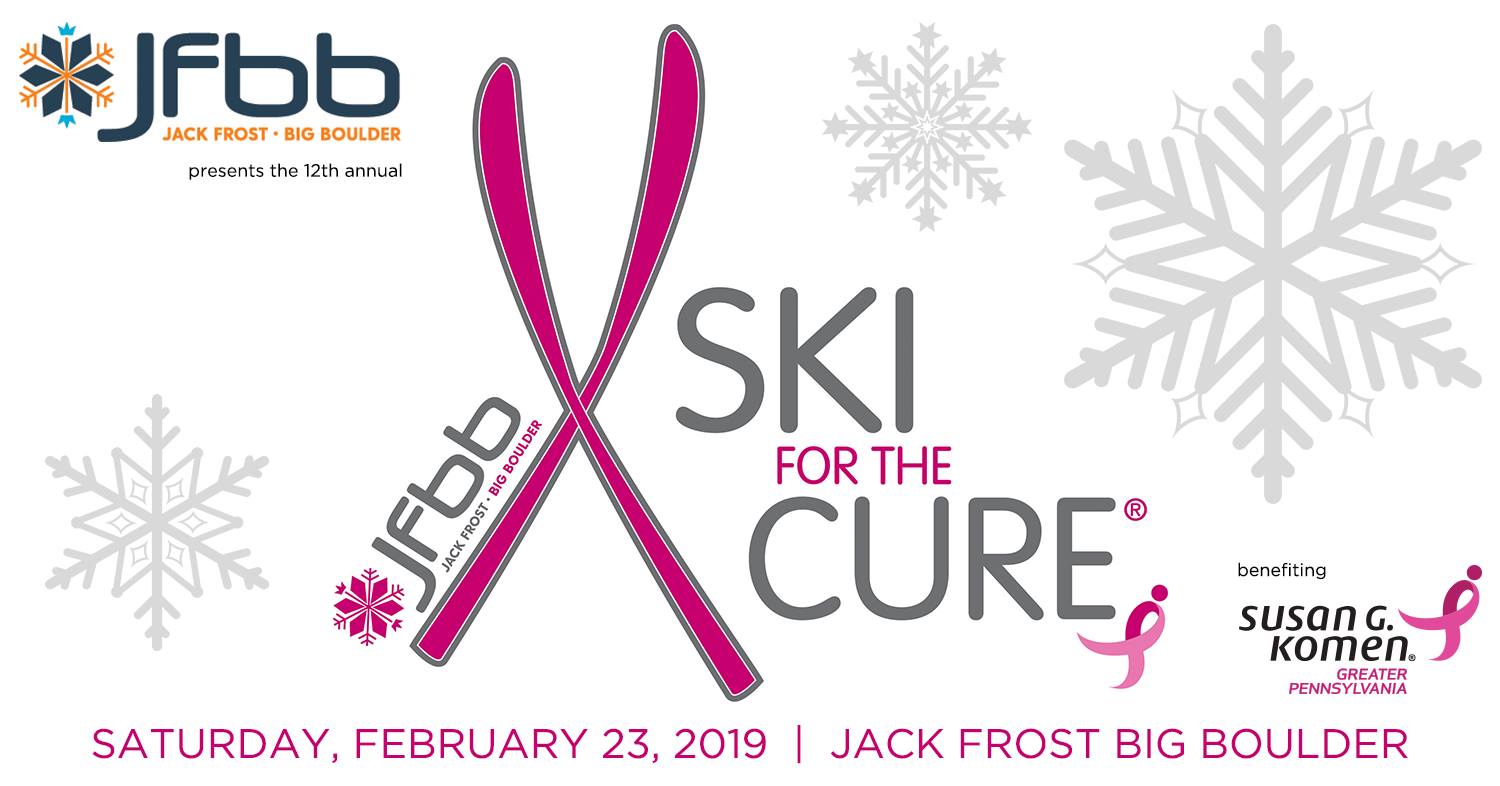 A survivor's personal experience with breast cancer and a vision she had while skiing down the slopes at Jack Frost Big Boulder in 2008 has grown into one of the most successful fundraising ski events for the Susan G. Komen Greater Pennsylvania Affiliate.
Bernie Oldroyd, a two-time breast cancer survivor and ski instructor at JFBB in Blakeslee, PA, believed so strongly that a screening mammogram saved her life, she wanted to share her story and drive home a message about the importance of early detection screenings for breast cancer while raising funds to support medically uninsured women and men obtain life-saving screenings. With support from the local Komen Affiliate and JFBB, the first Ski for the Cure Breast Cancer Awareness Day was held in 2008 with Bernie as the Event Chair.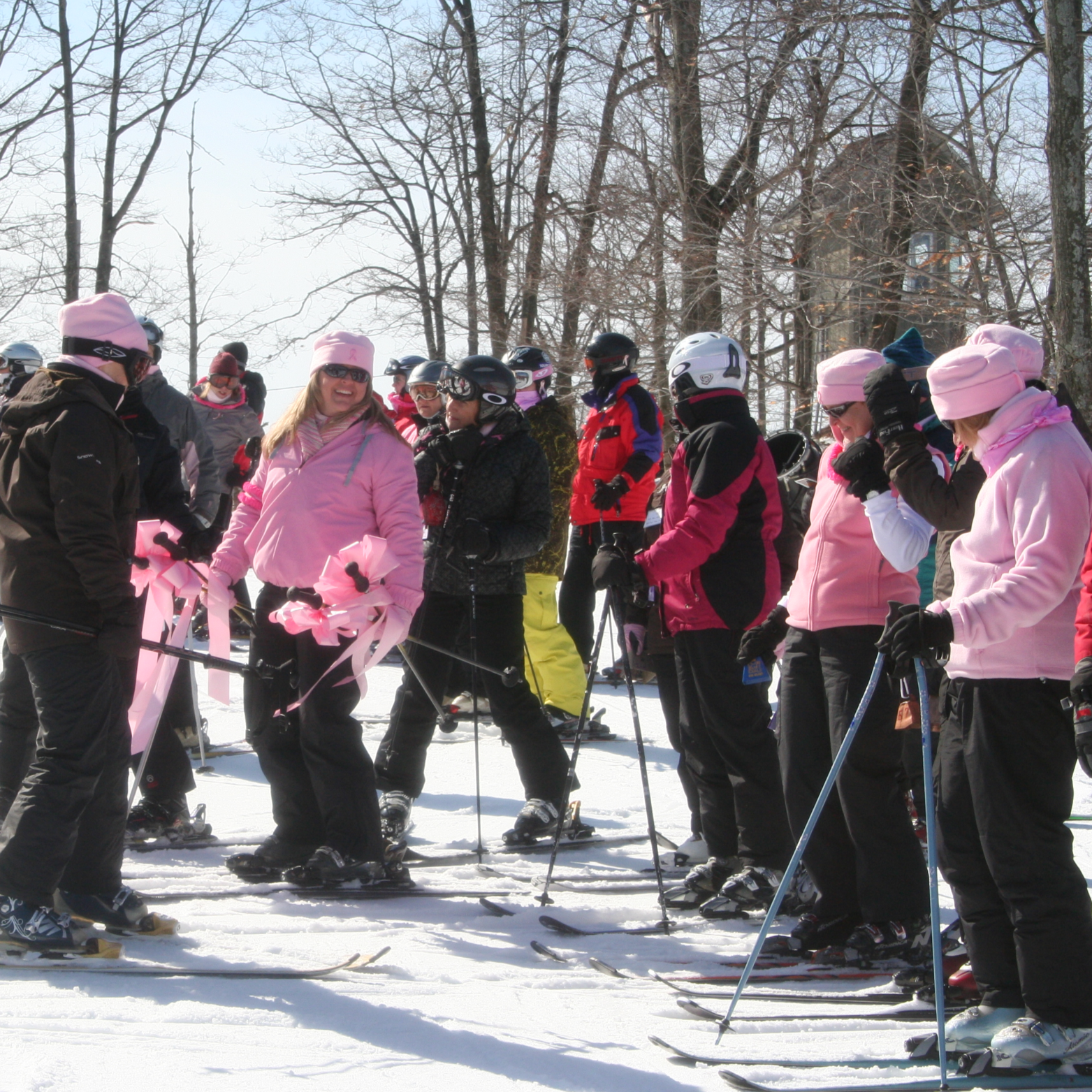 Now entering its 12th year, Ski for the Cure Breast Cancer Awareness Day is an opportunity to raise awareness about a disease that strikes one woman every two minutes, and takes a life every 13 minutes in the United States. Ski for the Cure is a fundraising event where hundreds of skiers converge on the slopes at JFBB to make a difference in the fight against breast cancer while honoring loved ones and remembering lives lost to the disease.
Funds raised from Ski for the Cure will help fund breast health education programs and breast cancer screening and treatment services throughout the region. Thanks to the generosity and support from our community partners, local businesses, skiers and individual donors, more than $295,000 has been donated to Susan G. Komen Greater PA.
The 12th Annual Ski for the Cure | Saturday, February 23, 2019
Jack Frost Big Boulder, Blakeslee PA
Click HERE for more information
University of Pittsburgh's "Pink the Petersen" women's basketball game on February 10
On Sunday, February 10, 2019 the University of Pittsburgh's women's basketball team will host the Miami Hurricanes at 2 p.m. at the Petersen Events Center for the 12th annual "Pink The Petersen" game for breast cancer awareness.
A portion from each ticket sold will be donated to Susan G. Komen Greater PA. Fans will receive a free "Pink The Petersen" T-shirt while supplies last. Breast cancer survivors in attendance will be recognized on the court at halftime.
Visit the Komen Greater PA Information Table at the event to register for the Komen Pittsburgh Race for the Cure and receive $5 off your race registration. Click here for tickets!
Join #TeamKomen in the Pittsburgh Marathon on May 5

There is still time to commit to joining Susan G. Komen Greater Pennsylvania as a Charity Runner in the 2019 DICK'S Sporting Goods Pittsburgh Marathon, UPMC Health Plan Pittsburgh Half Marathon, UPMC Health Plan/UPMC Sports Medicine Pittsburgh 5K Run, or any other marathon weekend event!
RUN FOR A REASON | By registering as a charity runner under the Run for a Reason program, your registration fee is covered by Susan G. Komen Greater PA. YOU commit to meeting the fundraising minimum for the event you choose:
MARATHON: $500
HALF MARATHON: $350
RELAY TEAM: $750
5K RUN: $150
KID'S MARATHON: $50
PET WALK: $100
REGISTER | Run for a reason. Join Team Komen in the 2019 Pittsburgh Marathon, on May 5, 2019. Click here to learn more and join #TeamKomen.
Once at the CrowdRise page click "JOIN"
Select "REGISTER" (which will register you for the event of your choice) OR
"JOIN THE TEAM & Create Your Own Fundraiser" (you will not be registered for a marathon event; you will simply have a fundraising page!)
Save the dates
Swing for the Cure Golf Classic | July 15, 2019. Komen Greater PA is thrilled to announce an exciting new fundraising event at the Longue Vue Club and Golf Course in Pittsburgh. The Swing for the Cure Golf Classic will feature a four-person scramble, fun contests and challenges for individuals and teams, raffles, and a post-event recognition and Thank You "Par-tee!" Stay tuned for more information!
29th Annual Northeastern PA Race for the Cure | September 21, 2019. One of the area's most popular fall traditions will continue as the NEPA Race celebrates its 29th year! More information and registration to come!
Follow us on social media!

If you're not connected yet, give Susan G. Komen Greater Pennsylvania a follow! Stay up-to-date on Komen Greater PA happenings by following us on Facebook, Twitter and Instagram.

Susan G. Komen Greater Pennsylvania
1133 South Braddock Avenue, Pittsburgh, PA 15218
125 N Washington Avenue, #260, Scranton, PA 18503