JetSuite | JSX Against Breast Cancer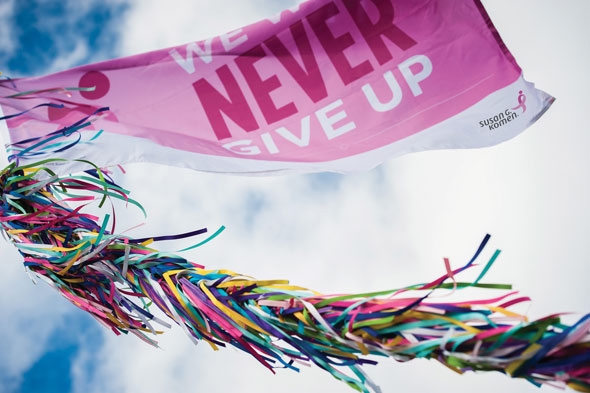 We're sorry. You must have JavaScript enabled and version 9.0.0 or higher of the Flash player installed to view this video.
This year, JetSuite | JSX is making an impact in the fight against breast cancer! We want to help Susan G. Komen save lives and end breast cancer forever, so we're taking steps towards a world without breast cancer by raising funds to stop this disease that affects 1 in 8 women during their lifetime. As the world's largest and most impactful breast cancer organization, Susan G. Komen funds more breast cancer research than any other nonprofit, while providing real-time help to those facing the disease.
We are offering several ways for crewmembers to support the cause, which are outlined below:
1. Direct Donations
Using the "DONATE NOW: button above, crewmembers can make direct donations to the Susan G. Komen Foundation. These funds are used to help fund the fight for a cure.
2. Lanyards for a Donation

We have ordered JSX and JetSuite lanyards in Pink for all crewmembers to purchase for a minimum of $5, or the donation of their choice. Lanyards can be worn in lieu of the current red lanyards during October. Information on how to order a lanyard is available in the email sent from Corproate Soul, or you may contact your supervisor or Kristen McIntrye in Corporate Soul.
3. Pink Uniforms for a Cause

Several pink uniform items will be available for order through our uniform partner, Affinity. Items are available on the Affinity website (link available through Corporate Soul). $5 from every item ordered will go to the Susan G. Komen Foundation.
You're free to order any item(s) you want. Order for yourselves or your families -- all purchases result in donations to the cause! However, items purchased to be worn as Uniform items during work are restricted to the requirements outlined in the Company email announcing the program.
Participation is entirely voluntary and optional. This cause is near and dear to us, as our very own Stephanie Chung is a proud breast cancer survivor. As stated above, breast cancer is the most common cancer in women worldwide, so most of us probably know/love someone who's been affected. Let's do all we can to support the cause and continue to find a cure!
View More