Welcome to the Jogging for Jugs' More Than Pink™ team page! As a member of this team, we are each playing a part in helping end breast cancer forever.
WHY do we fundraise for breast cancer access, research, and cures?
Because today in metro Atlanta, 7 people with be diagnosed with breast cancer.
Because every day breast cancer kills 1 person in metro Atlanta. 
Because this week, 19 cases of late-stage breast cancer will be diagnosed in metro Atlanta. 
Because African American women in metro Atlanta are 45% more likely to die of breast cancer than their white counterparts. 
Because breast cancer knows no boundaries. It affects people of every age, gender, socio-economic status and location.
Because it's time to go beyond breast cancer awareness. It's time to take action!
WHERE does fundraising go?
Here at home with services for those who cannot afford them, and

Globally through cutting edge research to find the cures. 
Each plays a vital role in reaching Susan G. Komen's Bold Goal to reduce the number of breast cancer deaths by 50% by the year 2026.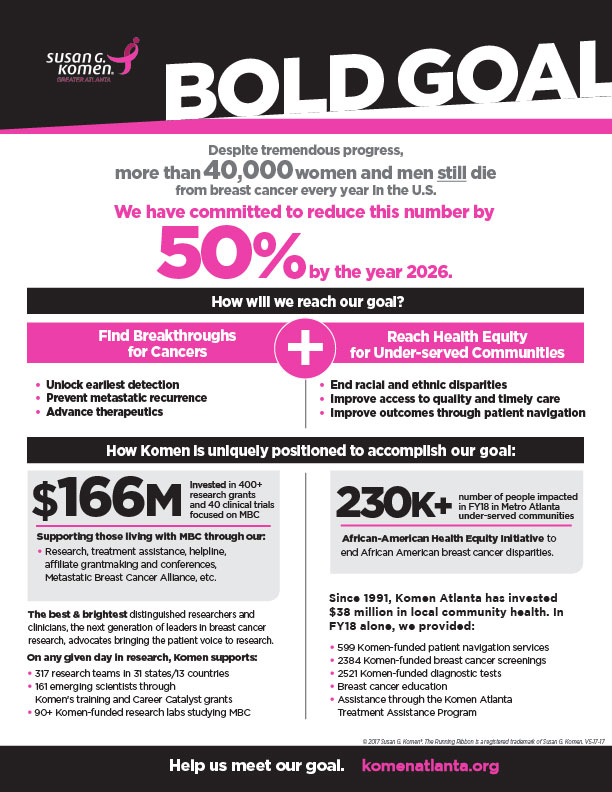 Together, we are fueling the best science, boldest community and biggest impact in the fight against breast cancer. And we will not stop until this disease is gone forever. That's our promise.
Will you please join us in this fight by making a donation today?