WWE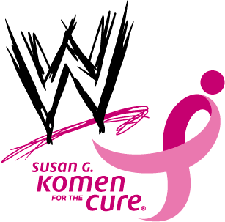 Do not enter text
WWE and Superstar John Cena are proud to announce a partnership with Susan G. Komen for the Cure. As part of our support, we're asking fans across the country to Team Up Against Breast Cancer and participate in a Race for the Cure event in your city. We chose to form a national Race for the Cure team because we believe in the work of Susan G. Komen and want to help women in need in communities around the United States. We are excited to offer our fans, supporters and their families a way to join the fight with their favorite WWE Superstar.
By starting or joining a local team as part of Team WWE, you have the opportunity to show your support for your favorite WWE SuperStar and to raise funds that will help provide breast cancer education, screening and treatment services to underserved women in your community. You'll also be able to come together with other WWE fans in your city in support of a very worthy cause. Together we will Rise Above Cancer!
We're proud to announce that the first team as part of Team WWE is John Cena's TEAM CENATION at the 20th Anniversary Massachusetts Race for the Cure on October 20th.
For more information on the Special Edition WWE John Cena merchandise, learn more here.
If you don't want to participate in the Race and would like to simply make a donation as part of Team WWE or Team Cenation click here.
| | |
| --- | --- |
| Amount Raised: | $10.00 |
| Number of Gifts: | 1 |
| Total Recruited: | 20 |
Top 10 Events
Top 10 Teams
Top 10 Participants
| Participant Name | Event Name | Gift Amount |
| --- | --- | --- |
| Nora Skelton | 2013 Central Virginia Race for the Cure | $25.00 |
| Mark Phetprasith | 2013 Florida Suncoast Race for the Cure | $10.00 |