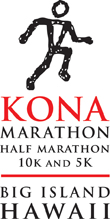 Join Susan G. Komen Marathon for the Cure® at the 2013 Kona Marathon and Half Marathon.
About the event:
This year marks the Kona Marathon's 20th Anniversary!!! There are two major attractions for the Kona Marathon. One is location. The various race courses run along the breathtaking ocean coastline and through the black volcanic lava fields on the Big Island of Hawaii. While location alone should be enough to lure quality runners there is another significant draw. The marathon course follows run portion of the high profile and widely acclaimed Ford Ironman World Championship. Runners come from all corners of the world in order to participate in the Kona Marathon and run this famous course.
Join us today!
Here at Susan G. Komen, we are prepared to dedicate the time and resources it takes to recruit, train and help support you in reaching your 26.2 (or 13.1) mile goal.
In order to participate with Marathon for the Cure, you will need to commit to a fundraising minimum. This number is set to keep our program costs low and to ensure your donations are utilized to maximize our investment in breast cancer research, screening, education and treatment.
Program benefits for registered Marathon for the Cure participants:
A New Balance visor or hat
$150- PINK New Balance shoelaces
$250- PINK fashion watch
$500- An exclusive Komen Marathon for the Cure New Balance running shirt
$2,300 and over- various incentive prizes for your fundraising efforts
All the tools and help you need to raise funds--even a customizable fundraising web page!
Event weekend support – finish line tent and ticket to pasta dinner
Carb Load dinner - one complimentary ticket to the dinner
3 night stay at the Sheraton Keauhou Beach Resort (http://www.sheratonkeauhou.com)
Breakfast vouchers for each morning
All taxes
Hotel is right by start/finish
Top Fundraiser- will receive a New Balance outfit, including: a jacket, pants and shoes.
Knowing you are raising funds to save lives and help end breast cancer forever!
**Milestone prizes may vary.
Why join Marathon for the Cure?
Your contribution will help Komen continue to invest in innovative and collaborative research designed to find the cures and deliver them to patients faster. Also, your contribution provides education and accessibility to care for your friends and millions of people in medically underserved communities throughout the United States and around the world.
Join Komen Marathon for the Cure today. Whose life will you impact?