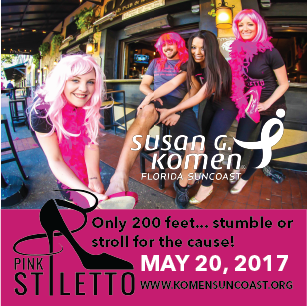 Kick up your heels and stumble or stroll to raise funds for the
Cure while supporting our local business community at the
2nd Annual Komen Florida Suncoast Pink Stiletto

Runners, walkers and ALL footwear are welcome to participate in a competitive Stiletto Stumble OR a non-competitive Stiletto Stroll. Registered participants at this year's event will receive a FREE EVENT KOOZIE*, complimentary appetizers at the pre-party check-in and enjoy LIVE MUSIC!

Grab your Stocks 'n Socks, flops or sneakers for the non-competitive Stiletto Stroll! Participants can run, jog or walk in ANY shoe type for those not willing to race in their heels. Non-competitive participants are NOT eligible for Top Finisher awards.

Competitive Stiletto Stumble participants will run approximately 200 ft and are required to wear a minimum of 2" heels with a slim, tapered heel (no wedges or tape allowed) and are eligible for Top Finisher awards: 1st place male, 1st place female and overall 2nd and 3rd place winners will be awarded.

Prize(s) for "Best Dressed" will also be awarded! So decorate those stilettos, sneakers, Stocks and flops! Teams are encouraged to participate in the Pink Stiletto as well as individual participants. Invite your friends... ask them all to join you. We believe sprinting in your heels is always more fun with your friends!

Registation fees:

$20- EARLY BIRD REGISTRATION- through April 21st!
$25- advance purchase
$30- at the door on May 20th!


Pre-event check-in party:
Time: 2-3pm (COMPLIMENTARY APPETIZERS provided by MacDinton's for registered participants only)
Location: MacDinton's Irish Pub St. Pete

Event Schedule:
3-4:30pm- Packet pick-up at MacDinton's
4pm- LIVE MUSIC/BAND starts
5pm- Competitive Stiletto Stumble starts
5:15pm- Non-Competitive Stiletto Stroll starts
5:45pm- Awards presentation
6pm-until??? Kick off your heels for the "High Heel Happy Hour" with Stouts and Stilettos drink specials at MacDinton's and LIVE MUSIC!

Packet Pick-up:
Packet pick-up will take place on Saturday, May 20th from 2-4:30pm at MacDinton's Irish Pub St. Pete. Come early and enjoy COMPLIMENTARY APPETIZERS from 2-3pm! We encourage participants to check-in and pick up their goodie bags early. Participants will also receive an event wristband for participating in the event. This wristband will give participants access to exclusive drink and food specials that can be enjoyed before and after the Stumble and Stroll.


*Free event koozies are available to registered participants on a first come, first serve basis while supplies last.

We have some amazing sponsors lined up for the Pink Stiletto, including MacDinton's Irish Pub and Beasley Media. So kick off your heels and stick around after the Pink Stiletto for a High Heel Happy Hour with Stouts & Stilettos drink specials.