Celebrating our 10th Annual Paws for the Cure
Susan G. Komen Greater Pennsylvania is excited to kick-off October and National Breast Cancer Awareness Month with our 10th Annual Paws for the Cure Dog Walk & 5K Run! You read that right – we are introducing a 5K USATF certified timed run to this family and pet-friendly event. Participants can still enjoy a scenic one-mile walk through Hartwood Acres or decide to take a run, with or without their furry friend, through the park! Back this year will be the ever-popular dog contests, apple bobbing station, photo ops, and fun sponsor and vendor booths. Dogs (and humans) of all breeds are welcome to participate in this fun-filled fall festival morning in beautiful Hartwood Acres at the height of Autumn.
Register online TODAY!
CLICK THE APPROPRIATE BUTTON TO THE RIGHT OF THIS PAGE TO GET STARTED!
DON'T FORGET: VISIT YOUR PERSONAL FUNDRAISING PAGE! Already registered and would like to send emails out to friends and family members asking them to join your or donation on your behalf? CLICK HERE!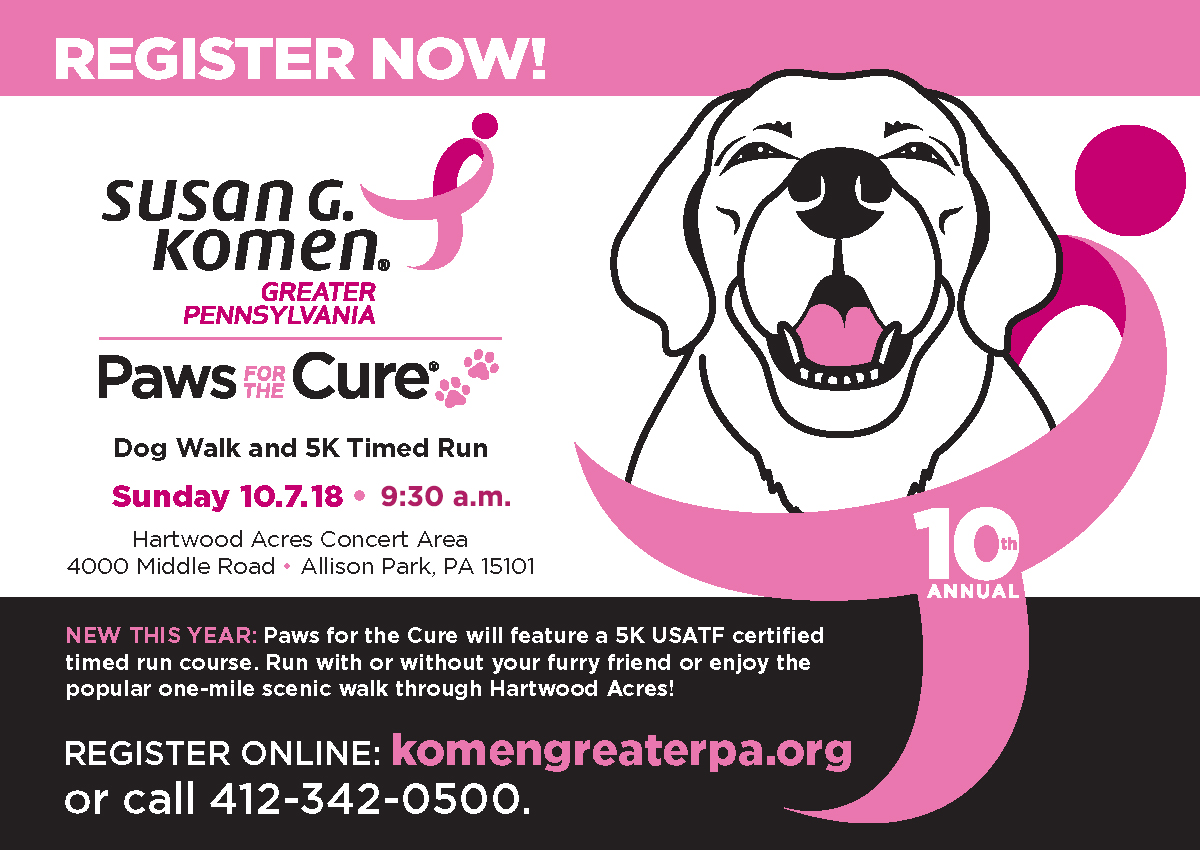 Komen Greater PA
Paws for the Cure Dog Walk & 5K Run
Sunday, October 7, 2018
Hartwood Acres Concert Area, Allison Park, PA
T-SHIRTS | 

> Shirts are only available for pick-up the day of the event.

> Shirts are guaranteed to the first 500 registered participants. 

> We will do our best to accommodate sizes but cannot guarantee all requests.

EVENT | 8:30AM - 12PM | Registration, t-shirt pick-up, and sponsor/vendor tents open at 9AM.

This event will occur rain or shine; we reserve the right to cancel in extreme circumstances. In that event, there will not be refunds.

Your entry fee will be used as a donation to Komen Greater PA. Thank you!

ENTRY FEES | 

> $25  |  Individuals age 18 years old and older who are WALKING

> $15  |  Individuals age 17 years old and younger who are WALKING

> $30  |  Individuals age 18 years old and older who are RUNNING

> $20  |  Individuals age 17 years old and younger who are RUNNING

REGISTRATION DEADLINE | 

> The deadline to register online is Wednesday, October 3, 2018 by Noon.

> In person registration will be open beginning at 8:30 AM on October 7, 2018. 

SCHEDULE | 
8:30 AM - Registration & t-shirt pick-up opens

9:30 AM - Timed run will begin; walk will begin immediately following the run start

10:30 AM - Doggie contests and activities, runner awards, raffle drawings

12 PM - Conclusion of the event
CONTESTS AND ACTIVITIES |
> Doggie "Apple" Bobbing!
> Photo Booth & 2019 "Pup for the Cure" model contest!
> 50 Yard Doggie Dash!
> Raffle Baskets!
> Dog Contests: Best Pittsburgh Gear, Look-A-Like, Best Trick, Musical Sit & Stay, Best Pink Out!
> Sponsor and vendor booths!
> Food & beverages!
RULES FOR PARTICIPATION |
1. DOGS ONLY PLEASE!
2. Children under 18 must be accompanied by a
3. guardian at all times.
4. Dog handler must be 18 years or older.
5. All dogs must be properly licensed, healthy, and
6. have current vaccinations. Dogs must wear an ID tag.
7. Dogs must be on a fixed leash (6 ft. or shorter)
8. and under an adult walker's control at all times.
9. Owners must clean up after their dogs. We cannot emphasize this enough!
10. No pets in heat.
11. No bicycles, skateboards, or in-line skates permitted. No pullcarts or pet carriages.
Upon arrival, please check in at the Paws for the Cure Registration tent.
There will be watering stations along the walk route, but be aware if the day is warm and your dog needs water.
There will be large crowds and numerous dogs throughout Hartwood Acres; dogs may react differently in these crowded situations.
Anyone in violation of these rules will be asked to leave!
VOLUNTEERS NEEDED! | To volunteer, please email Jonathan at jwinkler@komengreaterpa.org or office 412-342-0500.
THANK YOU TO OUR SPONSORS! | For sponsorship and vendor information please CLICK HERE or contact Meg Dluhos at mdluhos@komengreaterpa.org or 412-342-0500.
Calling all small business owners, consultants, crafters, and the like! Susan G. Komen Greater PA is looking for vendors for Paws for the Cure. Spots are limited and reserved to one vendor per business.
For more information and to request an application, please email Meg at mdluhos@komengreaterpa.org.
- - - - - - - - - - - - - - - - - - - - - - -
P

RESENTING SPONSORS

---
BEST OF SHOW
---
BEST OF BREED
---
CHAMPIONS