Special Announcement
Who's Your 'One'? Posters Now Available!
One in eight women in the United States is diagnosed with breast cancer in her lifetime.
This year, the Pittsburgh Race for the Cure will honor and recognize breast cancer survivors, Forever Fighters, and those we have lost to this disease in many special ways. Declare your one — the one who you Race for, the one who you fight for with specially designed, customized 12"x18" posters. "Who's Your One" posters, featuring your special messages, will line the Schenley Bridge as participants enter Flagstaff Hill.
The posters are a great way to give special recognition to a breast cancer survivor in your life, remember someone special that you have lost to this disease, or honor someone who you fight for. Posters will be available for a donation prior to the event; all pre-ordered posters will be digitally printed and available to take home at the completion of the Race.
CLICK HERE TO PURCHASE A WHO'S YOUR ONE POSTER
Example: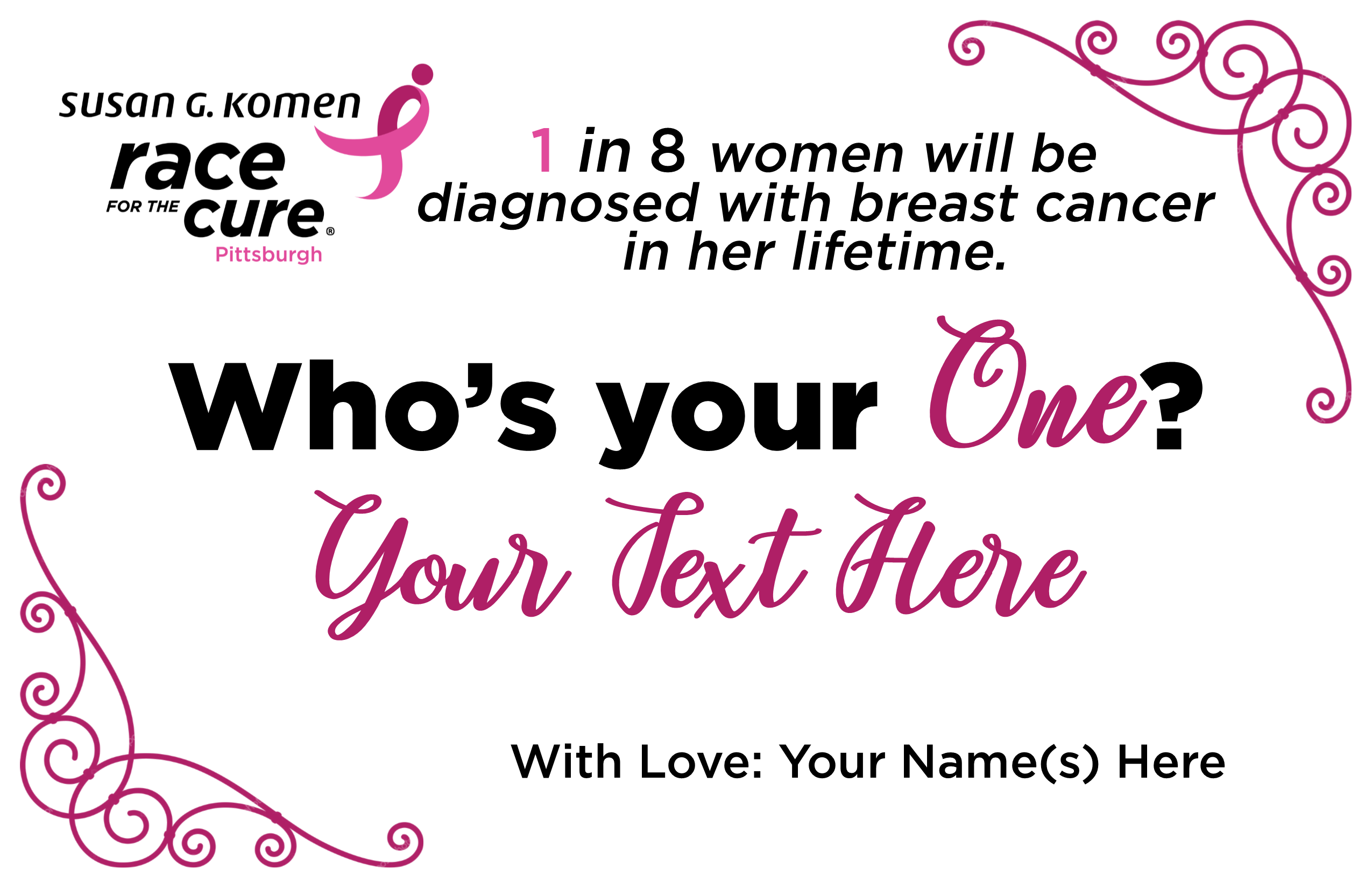 2019 Paper Entry Form and Pledge Forms are Now Available
Download the 2019 Paper Entry Form
Official Pittsburgh Race for the Cure T-shirt colors are in!
General Walk/Run Participants: Gray
Female Survivors: Light Pink
Male Survivors: Dark Gray
Forever Fighters: Berry
Announcing the 2018 Pittsburgh Race for the Cure Pink Honor Roll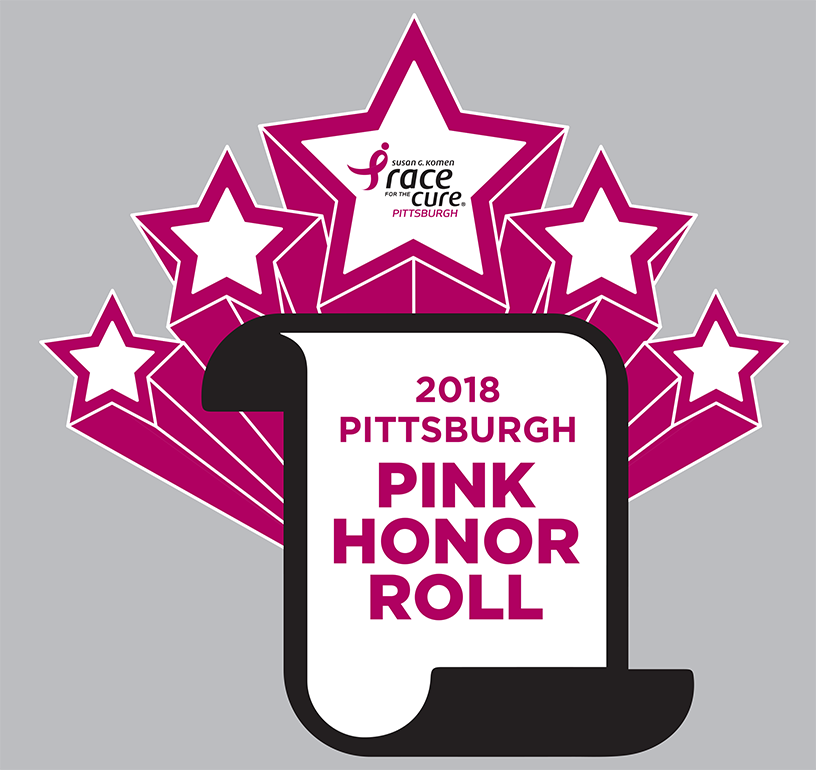 Komen Greater PA would like to announce the 2018 Pittsburgh Race for the Cure Pink Honor Roll – the top 25 individual fundraisers during the 26th Annual Race that was held on May 13, 2018. The Pink Honor Roll raised an outstanding $70,000; we thank you for your efforts and continued support!
TOP FIVE HONOR ROLL FUNDRAISERS:
Robin Caldwell
Roberta Clutter
Connie Skezas
Kelley Herman
Linda Pelkofer
HONOR ROLL FUNDRAISERS:
Ryan Cormier, Joanna Bigos, William Andrews, Cathy McGrath, Lois Karran, Marge Yolton, Donna Fontana, Ilene Iskoe, Lia Robinson, Elizabeth Grossman, MaryAnn Scutelis, Erin Cook, Kristen Sheleheda, Claudia Klos, Keli Vereb, Marianna Carrizales, Joyce Gebrosky, Kristina Hagan, Mary Beth Fernie, Suzanne Luikart, Darcy Mautino.