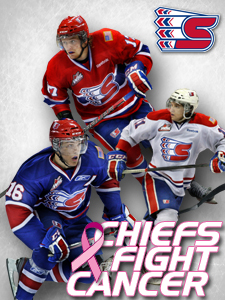 Team Fundraising Goal: $2,000.00
Total Number of Gifts: 43
Total Value of Gifts: $2,785.00
Please bookmark this page.
Recent Donors
Tim Speltz
Mitch Holmberg
Liam Stewart
Mike Aviani
Tim Speltz
Mitch Holmberg
Mike Aviani
The Aviani Family, in memory of Kathy Barnes
Krssi Hannahs (ribbon donations for Kath Barnes)
Tim Speltz

Full Donor List
If you would prefer to send a check, please include the Offline Donation Form when you send it.
Download the Offline Donations Form
If you do not see a total number of gifts, or total value of gifts, please refresh your browser (ALT-reload).
CHIEFS FIGHT CANCER
LAST UPDATED: Final through end of 2013-14 season

Spokane Chiefs forwards Mitch Holmberg, Liam Stewart and Mike Aviani are proud to donate to Susan G. Komen for the Cure during the 2013-14 Chiefs regular season.

Holmberg is honoring his late grandmother, Theresa Campbell. Stewart is honoring his late close family friend, Karen Beebe. Finally, Aviani is honoring his late close family friend, Kathy Barnes.

For each goal Holmberg scores, he has chosen to donate $5. Aviani will also donate $5 for each of goal of his own. Stewart has chosen to donate $10 per goal this year.

This fundraising challenge was inspired and created by the players themselves. The Spokane Chiefs Hockey Club is proud to support them toward their goal, as General Manager Tim Speltz has pledged to match the players' donations on behalf of the organization.
CURRENT GOALS TOTAL
FINAL 2013-14 TOTALS:
Holmberg scored 62 goals for $310
Stewart scored 7 goals for $70
Aviani scored 38 goals for $190
CONCLUSION
In total, through the players' donations, matching donation from Chiefs GM Tim Speltz, and the generosity of family members and Chiefs fans, the Chiefs Fight Cancer campaign raised $2,785 during the 2013-14 season.

Thank you!