CREATE A TRIBUTE PAGE
Honor the life of a loved one and make a difference for those affected by breast cancer.
Every dollar donated through your tribute page makes a difference for the families affected by breast cancer, while helping to fund clinical trials, advanced research for effective treatments, and ultimately, a cure against breast cancer.
Start a Memorial Fundraiser
Commemorate a loved one who has passed on.
Ask for donations in lieu of flowers to honor your loved one's memory.
Start an Honorary Fundraiser
Honor someone living with breast cancer.
Set up and customize a page to share photos, memories and donations in honor of your loved one.
Lee Giller Remembered
Most people think breast cancer can only affect women-- a reason why men often wait too long to get checked when they notice something abnormal. It never occurred to The Giller family that the lump Lee felt was anything more than a cyst. At the young age of 48, Lee Giller was diagnosed with Stage II breast cancer.
Lee and his wife, Kathy, began increasing awareness about breast cancer in men by participating in Susan G. Komen's 3-DayŽ. They participated in many walks and listened to people share their stories of survival, courage and sadly, defeat; and they shared theirs. Lee and Kathy began to find their voice and purpose, and Susan G. Komen listened.
Lee allowed himself to become a face of male breast cancer – most often in places inundated with women. The way he faced his illness was inspirational. Lee was brave, kind, generous, and he was taken much too soon. On April 28, 2017, Lee passed away from breast cancer at age 59. Lee fought valiantly for nearly 12 years, four of them with metastatic disease.
Kathy continues to honor and remember her beloved husband and best friend, Lee, by raising funds through the Lee Giller Male Breast Cancer Fund. Lee's legacy will continue to help men and women affected by breast cancer.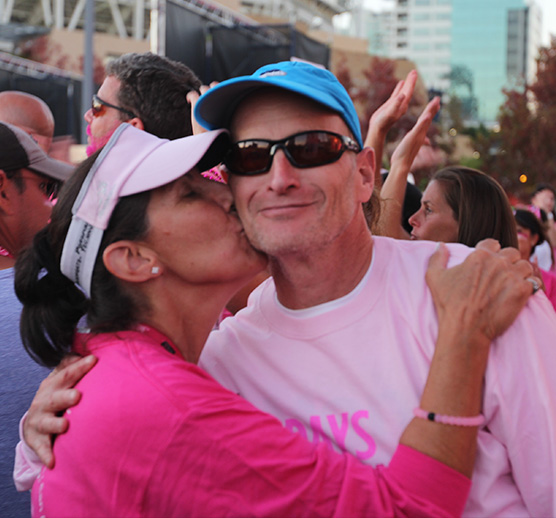 In Honor of Dr. Pat Warren
Dr. Pat Warren had plans for an exciting retirement full of travel and adventures. However, on July 17, 2017, her plans came to an abrupt halt when she was diagnosed with breast cancer including lymph node involvement. What was supposed to be a year of laughter and fun became one of the most difficult times in her life. Dr. Warren is a fighter. She went through chemotherapy followed by a lumpectomy and axillary lymph node removal. Eventually, she made it through 35 sessions of radiation therapy and is currently participating in a clinical trial at the University of Alabama Birmingham. Today, Pat is a breast cancer survivor.
In August 2019, Pat's granddaughter, Maddie, surprised her grandma by creating a Susan G. Komen fundraiser in honor of Pat's tenacity and bravery against breast cancer. In lieu of birthday gifts, Maddie asked her friends and family to donate to celebrate her grandma's endurance.
In honor of her grandma's life, Maddie raises funds to find a cure for this deadly disease.