Lavender Hair, A Night of Love and Laughter to Benefit Breast Cancer Research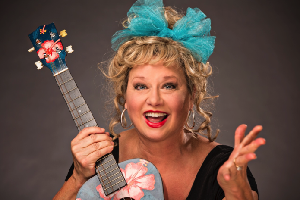 Victoria Jackson is best known for her six seasons on Saturday Night Live, 1986-1992, with fellow cast members Dana Carvey, Jon Lovitz, Dennis Miller, Adam Sandler, Kevin Nealon, Chris Farley, etc. She has appeared in many films such as Weird Al's "UHF," "Family Business" with Dustin Hoffman and Sean Connery, "Baby Boom" with Diane Keaton, "The Pick Up Artist" with Robert Downey Jr., and many more.
On October 8, 2015, Victoria Jackson was getting ready for her 45-minute stand-up routine at Zanie's Comedy Club in Nashville. But instead of enjoying the pre-show excitement, she was laying on the couch in the green room coughing nonstop, drinking tea with lemon and honey, and sucking on cough drops. This cough led her to the Walk-In Clinic where Victoria casually mentioned a tiny numb spot near her underarm to the astute and caring attending nurse. He sent her directly to the Vanderbilt Breast Clinic where she was diagnosed with Stage 3 Breast Cancer. After a double mastectomy, 5 months of chemo, and 33 radiation visits, Victoria celebrated being cancer free at Zanies one year later.
Victoria had many scary moments in her life: bit by a dog in the eye at age 5, doing a back-hand-spring on a 4-inch balance beam as a 14 year old gymnast, moving to Hollywood to be an actress at age 21 and being held up by a robber with a gun, auditioning for Saturday Night Live at age 26, and performing stand up comedy. But, being told she had cancer at age 55 was probably her scariest moment.
This event was birthed because of the journey that Victoria Jackson took down her road with breast cancer. What could be a time in Victoria's life that most would choose to forget, she is instead using to encourage and help other women going through the same difficult situation. It is Victoria's desire to bring hope and a little humor into what is a terrifying and dark time. The event is titled "Lavender Hair" after Victoria's new book releasing from BroadStreet Publishing, October 1, 2017.
LAVENDER HAIR, A NIGHT OF LOVE AND LAUGHTER TO BENEFIT BREAST CANCER RESEARCH With VICTORIA JACKSON AND FRIENDS
WHEN: SUNDAY, OCTOBER 8th, 2017
WHERE: ZANIES Comedy Club, Nashville, Tenn.-the place Victoria performed the day she was diagnosed and the place she performed the day she found out she was cancer free.
PURPOSE: To raise funds for breast cancer research to donate to the Susan G. Komen foundation.
CONTENT: Stand up comedy and music by Victoria and friends.
PRODUCED BY: Victoria Jackson with Co-Producers Joe Battaglia and Suzanne Niles
IN CONJUNCTION WITH: Susan G. Komen Foundation, BroadStreet Publishing, and Zanies
LIVESTREAM: TBA

DONATE ONLINE AND PARTICIPATE IN SUPPORT OF ENDING BREAST CANCER FOREVER!
View More