10th Annual PINK OUT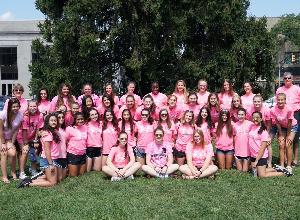 Westfield High School Volleyball Teams
proudly announce the
10th annual PINK OUT
Westfield High School vs. Union Catholic High School
Saturday, October 13, 2018
WHS Varsity Gym
Freshman...1:30 PM
JV........... 2:30 PM
Varsity......... 4 PM
Survivor Ceremony immediately following games
Giveaways—Tricky Tray—Silent Auction—50/50—Food Court—and More



1 in 8 women will be diagnosed with breast cancer in her lifetime.
Every 2 minutes, a woman is diagnosed with breast cancer.
Every 13 minutes, one woman will lose her life to breast cancer.
Please support our volleyball teams as we raise awareness and funds to help move one step closer to living in a world without breast cancer!
Become a Sponsor: komennorthjersey.org/PINKOUT
GOLD - $1000 & Up - Name on t-shirt, in program & online (prime location & larger size)
SILVER - $500 - $999— Name on t-shirt, in program & online
BRONZE - $200 - $499 - Name will appear in program & online
**ALL donations and sponsorships will be publicly recognized either in event program or on our online giving website!
For details and more information
Chris Miller - cmiller3366@gmail.com
Shelley Brindle - swbrindle2@gmail.com
Eileen Friel - elaceyfriel@yahoo.com

---------------------------------------------------------
A Special THANK YOU to our 2017 Sponsors:
GOLD - $1,000
Carrie and Joe Swingle Family
UBS
SILVER - $500
Margolies/Krupien Family
Thibaut Design
Miller Family
AVVC (Atlantic Valley Volleyball Club)
Westfield Tennis Club
Brindle Family
BRONZE - $200
Steven Becker
Anthony James Construction
Mark Swingle and MaryCaye McCourt
Gersch Orthodontics
Juice House
Carlos Silva
$100 Donors
Gold Medal Squared West, Inc.
Other Donors
John Robert Custom Shirts
Wigs Naturally
View More
My Personal Web Log
Topics
If you wish to sponsor...let us know
download for more information
by Christine Miller on Thu, Jul 19, 2018 @ 10:30 AM

Permanent Link 1 Comment
Fundraising Honor Roll
Mr. & Mrs. Christopher Brindle
$1,000
Coach Matching Gift Todd Stiles
$1,000
Christine Miller DIY
$332
Atlantic Valley Volleyball Club Avvc
$200