Sandi Spivey Memorial Fund Komen Orange County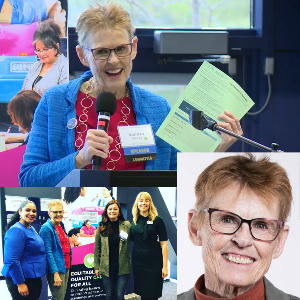 Surrounded by her family, our beloved Sandi Spivey lost her battle with metastatic breast cancer on Saturday, March 13, 2021. Our Komen Family all over the globe is heartbroken to lose this warrior for good – who led the charge advocating for metastatic research and support for patients for over two decades. As a Komen Scholar and Komen Advocates in Science Steering Committee member, Sandi worked tirelessly to ensure the patient's perspective was integrated into research decisions.
As she would want, please join us in celebrating Sandi's life and everything that she has accomplished, every barrier she broke, every word she spoke, and every smile she gave. Here you can share your memories and make a gift towards continuing the work Sandi believed in.
To share your Sandi story with others, send an email to info@komen.org with the subject line "Sandi Spivey Memorial Fund Message".
***We will post your messages on this page to share with others.***
To make a gift in memory of Sandi,
For an online donation, please click on the pink "Donate Now" button located to the right of Sandi's pictures above.
For a gift made by check, please make payable to:
Sandi Spivey Memorial Fund Komen Orange County
Mail to:
Susan G. Komen CA301
PO Box 801889
Dallas, TX 75380
__Yes, I want to help Susan G. Komen save lives and end breast cancer forever in memory of Sandi Spivey.
On behalf of all we serve, thank you for supporting Sandi's wish to continue her impact made through her work with Susan G. Komen.
Messages in Memory of Sandi
Sandi was our MBC Conference Chair and was instrumental in building the MBC community locally in Orange County and bringing educational and emotional resources to those impacted by MBC and their loved ones. Sandi's leadership as Chair of the MBC Planning Committee helped us create a positive experience for those who attended the conference from venue accommodations, speaker selection, topics of interest, mindful menus for special restrictive diets to a quiet room for those who needed a peaceful break. She had a quick wit and could find solutions to any problem especially after taking copious notes of each event in detail from the size of water cups to speaker presentations. Sandi was always willing to help those newly diagnose find resources and psychosocial support and at every event gave her personal information to attendees, that shows you the caliber of person she was. Sandi could bring joy to any room with her contagious smile and funny sense of humor.
Sandi will be greatly missed by Komen staff and all those she touched with her advocacy efforts.
Copy and paste the YouTube address to view Sandi "in action" at our 2019 and 2020 MBC conferences and facilitating a virtual presentation on mental health during the COVID-19 pandemic.

https://www.youtube.com/watch?v=KYlnyCPun5g&list=PLUoHJUSs14CezVx0P823qDmdJiQX-EV2_
- Komen Orange County team
_________________________________________
I had the privilege of working with Sandi on several projects, which lead us to talk many times at many meetings and conferences. It goes without saying that Sandi was a tremendous advocate. She leveraged her journey with breast cancer and her living with metastatic breast cancer at every occasion she had, making sure her voice, and through her, the voices of many would be heard. Yet, Sandi was so much more than her advocacy: she was a caring person, so welcoming and inclusive. She had a great sense of humor, and I cherish the many laughs we had. I'm so saddened with the news of her passing, yet I am committed to honor her by continuing to advocate for her and carry out her teachings. My thoughts go to her loved ones, and all the ones who loved her.
-Jerome
_________________________________________
View More
Memorial Fund Contributors
Mr. Jerome Jourquin Ph.D.