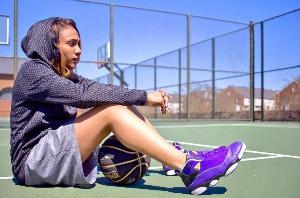 Hoops & High Heels Inc.
Hoops & High Heels Incorporated is excited to be hosting the 4th Annual Breast Cancer Awareness Charity Basketball Showcase in collaboration with Grace Brethren Christian School Varsity Girls Basketball. Our organization's mission is to inspire and encourage the ladies in our community through leadership, service, and athletics. We are looking forward to an awesome event with music, concessions, and giveaways (visit hoopsanghighheels.com for details)!!
Please show your support in our fight against breast cancer by joining our fundraising team! 100% of these donations will go towards the Susan G. Komen Breast Cancer Foundation.
Event Date - Saturday, October 14th from 2:00pm to 7:00pm
Youth Basketball Clinic - 12:00pm
AAU Girls Game - 2:30pm
AAU Guys Game - 4:00pm
"Baltimore vs. DMV" Pro Women's Game - 5:30pm
We want to make an impact in the fight against breast cancer in a different way. We're taking the first step towards a world without breast cancer by raising funds to stop this disease that affects 1 in 8 women during their lifetime. As the world's largest and most impactful breast cancer organization, Susan G. Komen supports more breast cancer research than any other nonprofit, while providing real-time help to those facing the disease.. Visit hoopsandhighheels.com for more information about our company.
View More

Top Donors
Krystal Ferguson
Anonymous
Anonymous