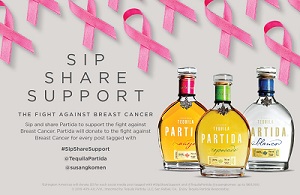 Tequila Partida Corporate
Edrington Partida and its Tequila Partida brand are joining the fight against breast cancer with its double matching program to help stop this disease that affects 1 in 8 women during their lifetime. As the world's largest and most impactful breast cancer organization, Susan G. Komen supports more breast cancer research than any other nonprofit outside the U.S. government, while providing real-time help to those facing the disease.
Partida is joining Susan G. Komen in their efforts with a double match for every dollar to provide education, screening and treatment programs for women and men in our community, and support cutting-edge research so that one day we can live in a world without breast cancer.
Additionally, Partida will donate $3 if you join the conversation and post an image to social media of how you are joining the fight with the hashtag #SIPSHARESUPPORT and @TEQUILAPARTIDA
Thank you for generosity and joining us in the fight!
About Tequila Partida
Tequila Partida is an estate-bottled agave spirit that only uses fully matured 100% Blue Weber agave harvested by hand. The patient maturation results in a spirit that is agave-forward and more full and rich. Tequila Partida was the brand to introduce Extra Añejo into the U.S. market, and today still pushes the Super-Premium tequila category to its limits. Tequila Partida is proudly part of the Edrington portfolio.
About Edrington
Edrington's ambition is to become the world's leading premium spirits company. Edrington owns some of the leading Scotch whisky and rum brands in the world, including The Macallan, The Famous Grouse, Highland Park, Cutty Sark, The Glenrothes, Brugal and Snow Leopard vodka. Edrington Americas added Tequila Partida to its portfolio in 2016 and Wyoming Whiskey in 2018.
Edrington is headquartered in Scotland and employs around 3,000 people in its companies and joint venture operations worldwide, with over 70% employed overseas. The company owns its route to market in 13 countries, and operates the remainder through joint venture and third party agreements.
Edrington Americas is headquartered in New York, NY with regional offices in Chicago, Miami and Orange County.
The company's roadmap for growth is based on long term investment in its brands and its strategy to Perfect The Macallan, Transform Super Premium, Accelerate Highland Park and Energise Regional Power Brands. As part of this strategy, Edrington recently unveiled the award-winning new distillery and brand home of The Macallan in Speyside.
Edrington's principal shareholder is The Robertson Trust, which has donated over £252 million to a variety of charitable causes since 1961.
View More

Tequila Partida Corporate
Top Donors
Kayla Kahn
Anonymous
Ruthie Garelik
Samantha Heller
Rebecca Wright