Practicing Peace: In support of a Breast Cancer Cure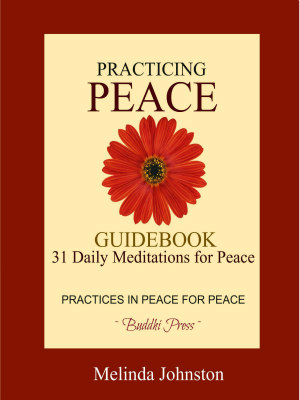 Practicing Peace Guidebook is offering a $1 donation from each book sale during the month of October in suppor of Breast Cancer Awareness month.
United as ONE in daily meditation in peace for Peace, this month we support the efforts of Susan G. Komen to save lives and end breast cancer forever.
How to help:
> You can make a donation online with your credit card by clicking the button above my fundraising thermometer.
> Purchase Practicing Peace Guidebook on Amazon, and we will make the donation for you.
Thank you for Practicing Peace daily, and offering support for ending breast cancer forever. Many Blessings ~ Meinda
View More
My Personal Web Log
Return to the main discussion page
Lord, Make me an instrument of thy Peace
This is the first sentence of one of my most favorite prayers. Using this simple, single sentence as a meditative mantra will establish you in the exact peace that it prays for.
When used repeatedly this mantra becomes a personified, vibrating, "blanket of peace." It becomes you, and radiates through you. You and the prayer become One.
by Buddhi Institute on Mon, Oct 02, 2017 @ 8:10 AM

Permanent Link No Comments